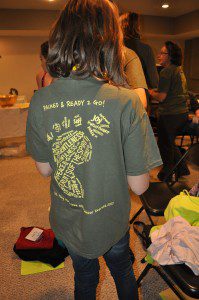 Saint Mary Magdalene's Middle School program offers dynamic sessions where the catechists enthusiastically share their love of Christ. We move through Church History, Sacraments and Liturgy in a spirit of review that allows our growing youths to assimilate our religion and make our great Catholic faith their own.
We break out and meet by grade level to have more sensitive experiences, promoting a deeper encounter with Jesus. They're encouraged to further develop their own prayer life and contemplate the works and guidance of the Holy Spirit in all of their social and life occurrences.
We pray the rosary together in each semester. The team illuminates the benefits of meditative prayer and the relationship with the Blessed Mother Mary and all the saints as intercessors in our prayer life.
We gather for Praise & Worship with the entire band of our music ministry where the lyrics are cast onto a screen and we can sing and dance together — in one of the best forms of rejoicing in Christ — "rockin' out!"
Message to a Middle Schooler: Come join us! Tell me what school you go to and I will place you in a class with friends or familiar faces that may become your next friends! Bring your questions, air your concerns and dare to share your life and how you are walking with Jesus or how you want to hike this journey called life with Christ.
To Him Through Her,
Buen Camino (Good Way), 
David Smith
Middle School Coordinator
dsmith@smmcatholic.org
678-854-9988
Important Documents
Registration Form 2017-18
Parent Registration Letter 2017-18
Media Release Form 2017.2018