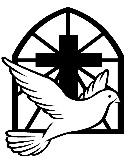 Middle School (Grades 7-8)
Welcome to Middle School Faith Formation!
Our Faith Formation Team is dedicated to walking with you and your child discovering the truth and beauty of Catholic Faith and God's amazing love for each of us. Our focus is supporting families learning to be disciples together.
Options for Faith Formation
Families Forming Disciples is a family-focused, thematic/activity approach to faith formation. Utilizing the Archdiocese of Atlanta session plans, groups of families meet with catechists twice per month (Once in-person & once virtually) to encounter the Lord together and to encourage each other to live as the Domestic Church in and through their home and family life.
Finding God is a catechist led/family supported approach to faith formation. Utilizing the Loyola Publishing age-appropriate curriculum, young disciples meet by grade level with catechists twice per month (both in person). Within their small communities of faith, the young people will grow in knowledge of what our Church believes enabling them to love and serve our Lord and each other. Our partnership with families consists of providing support materials to empower you to reinforce and live the faith concepts of the catechist led sessions.
Homeschool/virtual options are available on a case by case basis.
2022-2023 Faith Formation Registration
Please contact me if you have any questions.
Pixie Smith
Youth Minister
psmith@smmcatholic.org
 678-854-9987