Dues
Click HERE to pay your voluntary annual dues ($10.00) online!
Newsletter
Click the links below to view the latest newsletters from the Council:
SMMCCW Newsletter November 2021
SMMCCW Newsletter October 2021
SMMCCW Newsletter November 2020
Parish Cookbook
A Taste of Heaven, Volume II
preorder now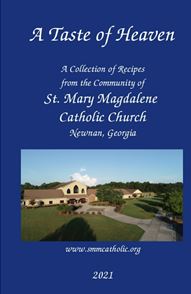 Foodie Alert!
The second edition of A Taste of Heaven
arrives this spring, just in time for Mother's Day gifting.
Included are treasured and trusted recipes from fellow parishioners.
All proceeds to benefit local charities.
Click here to the online order form.
Email or call Kathy Hoffman at kathyhoffman9@gmail.com or 404.509.4229 for more info.