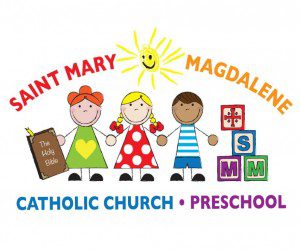 St. Mary Magdalene Preschool Classes begin AUGUST 19
Saint Mary Magdalene Catholic Preschool is excited to announce our beginning date will be Wednesday August 19!  Registration has begun.  Please contact the director if interested Please see our preschool page for more information about the program or contact Gina DeGennaro at gdegennaro@smmcatholic.org or 678.854.9990.  We are looking forward to serving you and becoming one family.
We are looking for donations of Catholic Statues and religious items for our preschool, please contact Gina if you have some you are willing to spare.  Also, our preschool is looking to add a volunteer that is computer savvy.  If you have time to assist and are creative on the computer, please contact Gina.
Eagle Scout Project In Progress
The beginnings of "operation playground" is currently underway for our preschool!  We are blessed that Colin Clayton has chosen to make the perimeter of the playground his Eagle Scout project along with the rubber mulch.  We are so excited!
P.S. Check out our new Facebook page at :
https://www.facebook.com/StMaryMagdaleneCatholicPreschool