The Saint Mary Magdalene Middle School Faith Formation program is growing in faith and size. We welcome all middle schoolers to join our sessions on Wednesday evenings from 6:45 – 8:15 pm.
The curriculum is found in the Finding God series for 6th, 7th, and 8th grades from Loyola Press. All three grades learn Catholic Church history, the Sacraments, the Virtues and celebrate Liturgy of the Word to name a few.
Not all our lessons come from a textbook.  Our middle schoolers also experience faith and life first hand:
Classes held both inside and outside
Middle school only Lock-ins
Catholic Fest
Movie nights
Fire pit socials
Eucharistic Congress
Guest speakers
We foster respect, responsibility, and social skills while building knowledge and faith.  Our Catechists (teachers) are well trained, enthusiastic volunteers who love working with middle schoolers and sharing their faith.
If you want more information about our program, please feel free to contact David Smith, Middle School Coordinator 678-854-9988 or dsmith@smmcatholic.org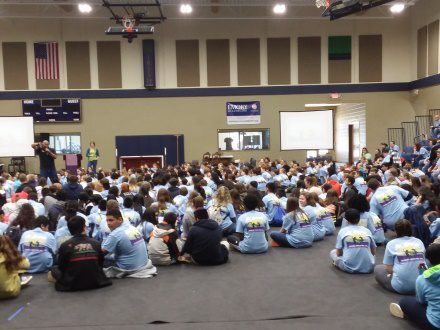 Catholic Fest 2018
If your middle schooler is not already enrolled, we invite you to contact David Smith, our Middle School Coordinator at dsmith@smmcathlic.org or 678-854-9988. You are also welcome to come and visit one of our sessions on Wednesday night from 6:45 – 8:15pm to see for yourself the great catechists and students already enrolled.
David Smith
Middle School Coordinator
dsmith@smmcatholic.org
678-854-9988
Important Documents
Permission to Contact Youth Form – Spanish/Autorización para contactar a la juventud
Permission to Contact Youth Form – English
Registration Form 2019
Parent Registration Letter 2019
Media Release Form 2017.2018