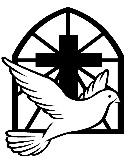 Middle School (Grades 7-8)
Welcome to Middle School Faith Formation!
Our Faith Formation Team is dedicated to walking with you and your child discovering the truth and beauty of Catholic Faith and God's amazing love for each of us. Our focus is supporting families learning to be disciples together.
We have four different options for Faith Formation
Sunday
#1      Families Forming Disciples 10:15 – 11:30 am for the entire family.
10% catechist led/ 90% family led (meets in person once per month with one virtual session per month)
#2      Hybrid Loyola 10:15 – 11:30am 1st – 8th (7th and 8th are considered Middle Years)
50% catechist lead/50% family led. Sessions gather in person almost every other Sunday. Parents work with children at home during the "off" with material designed to support the catechist led sessions.
 Wednesday
#3Traditional Loyola 5:45 – 6:45 pm 1st – 8th  (7th and 8th are considered Middle Years)CANCELLED
#4        Homeschool Formation for families desiring at home Formation on a schedule independent of the Sunday &Wednesday sessions.
5 % catechist led/95 % family led.
Please contact me if you have any questions, please contact me.
Pixie Smith
Youth Minister
psmith@smmcatholic.org
 678-854-9987
Important Documents
Paper Registration for Faith Formation 2021-2022
Payment/Fees for Faith Formation 2021-2022 
Permission to Contact Youth Form – Spanish/Autorización para contactar a la juventud
Permission to Contact Youth Form – English
Media Release Form 2021-2022
Medical Release Form 2020-English
Permiso medico anual /Medical Release Form 2020-Spanish
2021-2022 Families Forming Disciples (Sundays)
2021-2022 Loyola Hybrid Schedule (Sundays)
2021-2022 Traditional Loyola Schedule (Wednesdays)