The middle school program at Saint Mary Magdalene offers faith formation to all middle school students led by enthusiastic, dedicated catechists whose love of God and children shine through with every session. This year we have changed curriculum to the Finding God series which covers many aspects of our Catholic faith including the history of the church, Sacraments, and Liturgy of the Word to name a few. It also places an emphasis on meditative prayer.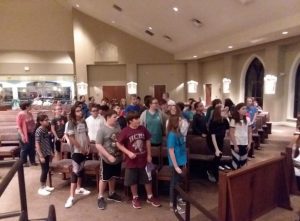 Our sessions are split into small classes by grade level to encourage interaction among the catechists and students as well as interaction between the students themselves. We are striving to build both the student's knowledge of our faith and their cognitive and social abilities with each lesson. Additionally, the middle school participates and learns to pray the Rosary and has the opportunity to attend Mass with their class as well as Praise and Worship sessions with the band and choir. We have fun while learning our church history and deepening our faith together as a community.
If your middle schooler is not already enrolled, we invite you to contact David Smith, our Middle School Coordinator at dsmith@smmcathlic.org or 678-854-9988. You are also welcome to come and visit one of our sessions on Wednesday night from 6:45 – 8:15pm to see for yourself the great catechists and students already enrolled.
David Smith
Middle School Coordinator
dsmith@smmcatholic.org
678-854-9988
Important Documents
Registration Form 2018-19
Parent Registration Letter 2018-19
Media Release Form 2017.2018