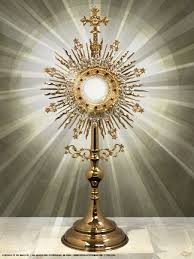 Eucharistic Adoration will resume at St. Mary Magdalene on Thursday, September 3, from 4 pm to 7 pm. All parishioners are welcomed to attend.
What is Eucharistic Adoration? Eucharistic Adoration is the act of worshiping God as he is present in the consecrated Eucharist. The devotion begins with Exposition of the Blessed Sacrament. The sacred host is removed from the Tabernacle and placed on the altar for Adoration. This is time for silent prayer and adoration. You may simply drop by during these hours for personal prayer before the Blessed Sacrament. This prayerful service is offered every Thursday from 4 pm util 7 pm. If you have any questions, please contact Nikki Walick at 404.644.4248 or at
nikkiwalick@gmail.com.
Sent by Gosha Schultheis on Thursday, August 27 at 11:57AM