Knights of Columbus Council 12862
Monks' Bakery Easter Sale
Please help us support the Monastery of the Holy Spirit by buying their products.
Monks' Bakery Items & Monk Made Products
Please shop now thru March 24, 2021
https://kofc12862.squere.site/
Items preordered now through March 24, 2021 will be available for drive-by pickup on Saturday, April 3, 9 am to 1 pm.
The pick up location is:
Central Community Center
65 Literary Lane
This is the polling place across from the Library near the church.
Look for a truck with Knights in green shirts.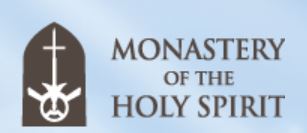 Monastery of the Holy Spirit
This Order is a monastic institute wholly ordered to contemplation. The monks dedicate themselves to the worship of God in a hidden life within the monastery under the Rule of St Benedict. They lead a monastic way of life in solitude and silence, in assiduous prayer and joyful penitence as defined in these Constitutions, thus rendering to the divine majesty a service that is at once humble and noble.
(https://www.trappist.net/about)
The work of the monk is primarily to sing praises to God and to pray for the world.
Meanwhile, the Rule of St. Benedict directs the monks to work for their living "by their own hands." (https://www.trappist.net/abbey-trades)