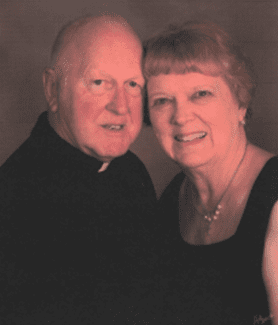 My name is Jim Weeks. I have been a deacon for 25 years, serving at St. Matthew Catholic Church since ordination in June 1995.  My family was some of the original members of Saint Matthew when the parish started in June 1978.  In October of 1979, we became a parish.
My wife Theresa and I have three grown children.  Our oldest Steve, and his family live in the Newnan area, our daughter, Lisa and her family live in Taylorsville, Georgia, our youngest, Mark and his family live in Marietta, Georgia.
We have 11 grandchildren ranging in age from 5 to 18.  We are fortunate to have all live somewhat close by.
Theresa and I have been married for 52 years.  She is a retired nurse. After 44 years as an agent for State Farm insurance I retired in October 2018.
Theresa has been involved in many ministries over the years.  To name a few, Eucharistic Ministry, Sacramental preparation, St. Vincent de Paul, and Embrace ministry.
We are looking forward to serving at Saint Mary Magdalene.  Jim as a decon, and Theresa as needed.  We are happy to be here and look forward to meeting everyone.