OUR STAFF
PRESCHOOL DIRECTOR
Gina DeGennaro says, "I have the privilege to serve as the Preschool Director at Saint Mary Magdalene Catholic Church.  I have been working with children for over twenty years in a variety of learning environments.  I hold my bachelors in elementary education and have taught in the classroom for many years with all different age groups.  My passion is early childhood education and I am honored to work with such an amazing team of kind and compassionate teachers.  I love to see the work of God come together and this preschool is a fine example of just that.  We have been blessed to hire the best staff, enroll an amazing group of families, and be showered with materials by the most generous parishioners known. It has been delightful to see Father Terry's vision unfold.   I am humble to come to my job each and every day and fulfill this purpose that has been assigned by the Lord.
On a personal note, I am a native New Yorker and have been in Georgia for 26 years.  I have truly enjoyed raising a family in this beautiful state and calling it "home".  I have been married to my husband Joe for twenty five years.  He also is an educator and is currently a special education teacher for Troup County.  We have two grown children, Anthony and Michael. I love spending time with family and friends.
I am grateful to serve each and every one of you and look forward to growing our preschool family each year."
You may reach Mrs. Gina at gdegennaro@smmcatholic.org or 678.854.9990.
ASSISTANT DIRECTOR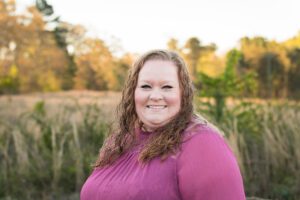 Heather Alley is the Assistant Preschool Director. She states, "I started at Saint Mary Magdalene Catholic Preschool in February 2017 as the assistant for Pre-K2 and Pre-K3.  I attended the University of West Georgia after high school.  I have been married to my husband Mike for fifteen years and we have a fourteen year old son named Stephen.  My husband and I are also busy with owning a local business called Storks Newnan which delivers food from restaurants that do not deliver. In my spare time, I enjoy watching my son play the bass drum for the East Coweta Marching Indians. I love country music, the Atlanta Braves, and Alabama Football. In my free time I like to read, attend concerts, spend time with my family and friends, and go to movies.
Working with children and the staff at St. Mary Magdalene Catholic Preschool has truly been the most rewarding blessing to me.  There is nothing better than seeing a child light up when learning. "
You may reach Mrs. Heather at halley@smmcatholic.org or 678.854.9988.
PRE K-4 TEACHER 
Lindsay Jenness is the Lead Teacher for our Pre-K 4 class.  She says, "I am so blessed to teach at St. Mary Magdalene Catholic Church Preschool. I was born and raised in Knoxville, Tennessee and I moved to GA in 2020. I graduated from The University of Tennessee, Knoxville in 2019 with a Bachelor of Science in Child and Family Studies with a concentration in Early Childhood Education with a focus on PreK-3. In August of 2020, I completed my Masters degree in the same field of study. I taught kindergarten for one year before moving to preschool. I attended Catholic schools from kindergarten until my senior year of high school, making my faith is very important to me. I am so excited to have the opportunity to instill the Catholic faith in the minds of young children. My classroom will be a place where all diversities will be embraced and celebrated. My husband, Aaron, and I have been married for almost three years. We have two dogs, both Boston Terriers, named Nellie and Hank. I love to bake, spend time with my family, read, and make magical things for my Etsy shop. I am so blessed to be starting my fourth year teaching at St. Mary Magdalene Catholic Preschool."
You may reach Mrs. Lindsay at lremeta@smmcatholic.org or 678.854.9990.
PRE K-3 TEACHER
Jennifer Fleming is the Lead Teacher for our three year old program. She says, "Both my husband Kevin and I were born and raised in New York. His career relocated us to Dallas, Texas just after we became married. Later, we moved to Georgia and we currently reside in Sharpsburg with our three young sons; Padraig  Cavyn, and Keagan.  We have a sweet Persian Cat named Ballybunion and a silly little Labradoodle named after a character in the children's series Land Before Time, (Cera).
With baseball being a passion of each of our boys, you'll generally find us at one field or the other, watching practice or cheering at games and weekend tournaments.
In the past, I have served as an assistant in evening Faith Formation here at Saint Mary Magdalene Catholic Church. Our youngest son attended Saint Mary Magdalene Preschool for three years.  During that time, we created many friendships. It truly was an environment that enriched the life of our family.
It's a blessing to be able to continue as part of this wonderful community, by having become a Lead Teacher for Pre-K3.  I consider it an honor to help bring other families the same joy that we found here. "
You may reach Mrs. Jen at jfleming@smmcatholic.org or at 678.854.9990.
PRE K-2 TEACHER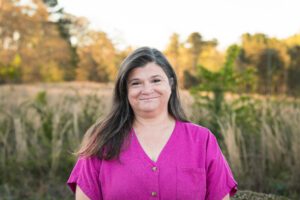 Cathy Cyr is the Lead Teacher for our 2 year old class. She says "Hello! I look forward to getting to know your children and being their teacher for the 2023-2024 school year. I have many years of experience working with children. I worked as a Kindergarten, 1st and 2nd grade Paraprofessional for Coweta County schools from 2000-2012. I was then a Nanny of two elementary boys from 2012 to 2013. I attended West Georgia Technical College from 2014-2015 and received a Medical Assistant Certification. But, I truly believe God has called me to work with children because He keeps bringing me back to education. I started here at SMM as the 2s Teacher in 2018 and as the 3s Teacher for two years. I was in Pre-K 4 for the 2020-2021 year as a part time assistant. I grew up in Maine and married my high school sweetheart David. We were brought here to Georgia for a job with Delta Air Lines in 1991. I have two grown children, one beautiful granddaughter, one due in January, and one in Heaven. I have an empty nest cat named Honey. I love traveling, hiking, photography, attending concerts, watching my daughter perform with the Newnan Community Theatre, playing with my granddaughter and riding with my husband on his Harley enjoying the beautiful sights of God's creation!"
You may reach Mrs. Cathy at ccyr@smmcatholic.org or 678.854.9990.
TEACHERS' ASSISTANTS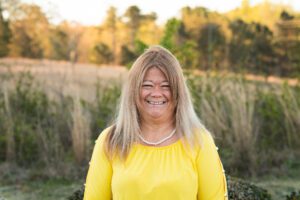 Teresa Calderon is the Teacher Assistant in the 2 year old classroom. "Allow me to introduce myself.  I was born and raised in Staten Island, NY, by two beautiful parents and a wonderful sister.  Growing up in the North taught me a lot to be aware of my surroundings and live amongst people with different nationalities which was a great experience, to learn cultures and languages of others.  I am married to my high school sweetheart of 32 years.  He is from Ecuador and I am Korean, Italian and Irish.   Together we raised 3 beautiful girls, who are my pride and joy.  I am also a grandmother of 2 sweet grandchildren.  I stayed very much involved with all my girls' activities and education.  I worked while my girls were in school.  I have several years of child care experience in daycare and as a substitute teacher in the county.  My favorite thing about working in the education field is when a child finally understands or completes a task they have been working on.  Working with children has always been a passion of mine.  I am super excited to get to know your little ones and make each day they spend with me a happy fun time as well as learning."
You may reach Mrs. Teresa at tcalderon@smmcatholic.org or 678.854.9990.
Lindsey Walston is the Teacher Assistant for Pre-K 4. She says "I am super excited to be joining the preschool team this year! I have worked with children for twenty years.  They definitely hold my heart. I am also a professional baker and have a degree in culinary arts. I am a hometown girl, growing up in Senoia. Just got married over the Summer and love being a newly wed. We have an eight year old daughter that our lives revolve around. I am rooted in my faith and live everyday to please the Lord and make Him proud. Can't wait to get to know a new class of kiddos!"
You may reach Mrs. Lindsey at lwalston@smmcatholic.org or 678.854.9990 
Amber Maginn is the Teacher Assistant in the Pre-K 3 classroom. She says "I am thrilled to be a part of the already strong program here at Saint Mary Magdalene Catholic Preschool. I have a four year old daughter, and she has been attending the school for two years. She is excited for her next adventure with Ms. Lindsay's Pre-K 4 class. I am originally from Western New York, and I have been living in Newnan for the last two years. My husband is an active duty Army Officer, and that's what placed us here in Georgia. Moving around due to his career has truly allowed me to see the value in Catholic education, and has made me want to to work with children- our Nation's most precious asset. I cannot imagine a more important role than helping to shape our country's future. My husband and I spent a lot of time trying to find a Catholic preschool that was in line with our values, and Saint Mary Magdalene preschool was an answer to our prayers. I'm looking forward to joining this team of incredible educators and watching your children grow!"
You may reach Mrs. Amber at amaginn@smmcatholic.org or 678.854.9990